United Way of Hamblen County exceeds goal by $10,000
The agency announced during its Annual Meeting held Jan. 11, 2022 that its "Stronger Together" Campaign raised $1,360,336, more than $10,000 above the campaign goal of $1,350.000.
"This year, we believed that our community would continue to support our agencies and we would meet our goal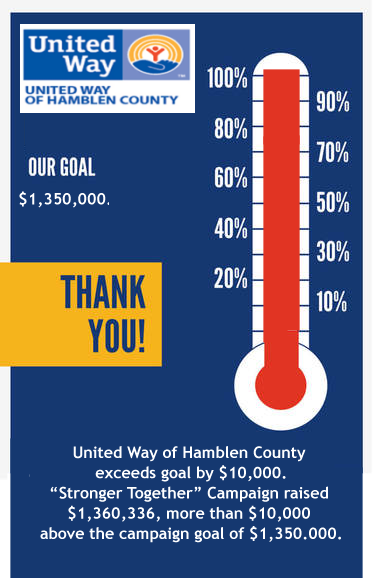 once again because we are 'Stronger Together,'" 2021 Campaign Chair David Slack said.
The Campaign Cabinet, consisting of volunteer division chairs, worked tirelessly to encourage businesses and manufacturing companies to participate.
In the Major Firms I division, led by Justin Cook, employee giving increased by 34 percent at Meritor. In Major Firms II, led by Roni Snyder, Colortech employee giving increased by $12,747. In Major Firms III, led by Tammie Ogle, Sonoco increased employee pledges by 24 percent.
Other companies and organizations with increases in employee giving included Crescent Center Drugs (98 percent), Morristown Area Chamber of Commerce (53 percent), Citizen Tribune (39 percent), Carlyle Construction (25 percent), Hamblen County Government employees (30 percent) and Purkey, Carter Compton, Swann & Carter (23 percent).
The Budget and Allocations Committee met with United Way agency directors in May of 2021 to review budgets, programs and requests for continued or additional funding. The meetings resulted in a unanimously approved campaign goal of $1,350,000. "There were 227 volunteer hours, over the course of four evenings spent to determine agency allocations," Committee Chair Drew Rowe said. "The committee is charged with the responsibility of making sure the community's contributions to the United Way of Hamblen County are used responsibly."